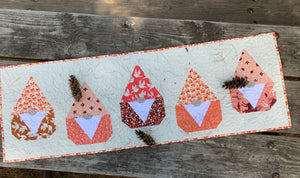 Gnomes, The image of gnomes has changed several times over the years and remains different in different cultures. They are thought to be mystical and live in dark forests and below the ground.  They are believed to have magical poswers and act much like humans and have human-like personalities. Image my surprise when I saw these 4 climbing out of the earth for their annual summer clan gathering...
Table runner finishes at 18" x 52"
For pattern visit our dear friend Fran at Cotton and Joy!
Bundle Ships free with code AWWSHIP